Celebrating Women...for the Real World
Thursday, May 26, 2005 L O S T left me....well....L O S T

We are not big television watchers, but this season I got hooked on ABC's LOST. I just Had to see it every week. If I couldn't be home at air time, we taped it...etc. Needless to say, I was waiting on pins & needles for the 2 hour season finale. Unfortunately, the finale generated more questions than it gave answers.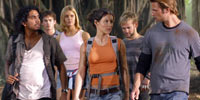 I decided to do a little surfing to see if I could find some answers (of course....I didn't). But I did find what I thought was very clever advertising for the next season. Go to this link :

http://www.oceanic-air.com/seatingchart.htm

. Click the numbers at the bottom of the chart in the order of the lost numbers (4 8 15 16 23 42) and you will see a 'preview' for the next season.....very clever!


Posted by Sheri & SuZan :: 5:53 PM :: 1 comments


---------------oOo---------------